Once Upon a Party
Hi There! We are the Genie Mackers entertainers!
The Magicians, face painters, balloon artists, storytellers and actors that bring
awesome party games, magic and laughter to kids parties all the way from MagicLand! We cater for children's parties in Dublin, Kildare and Wicklow. We also travel further afield midweek, YAY!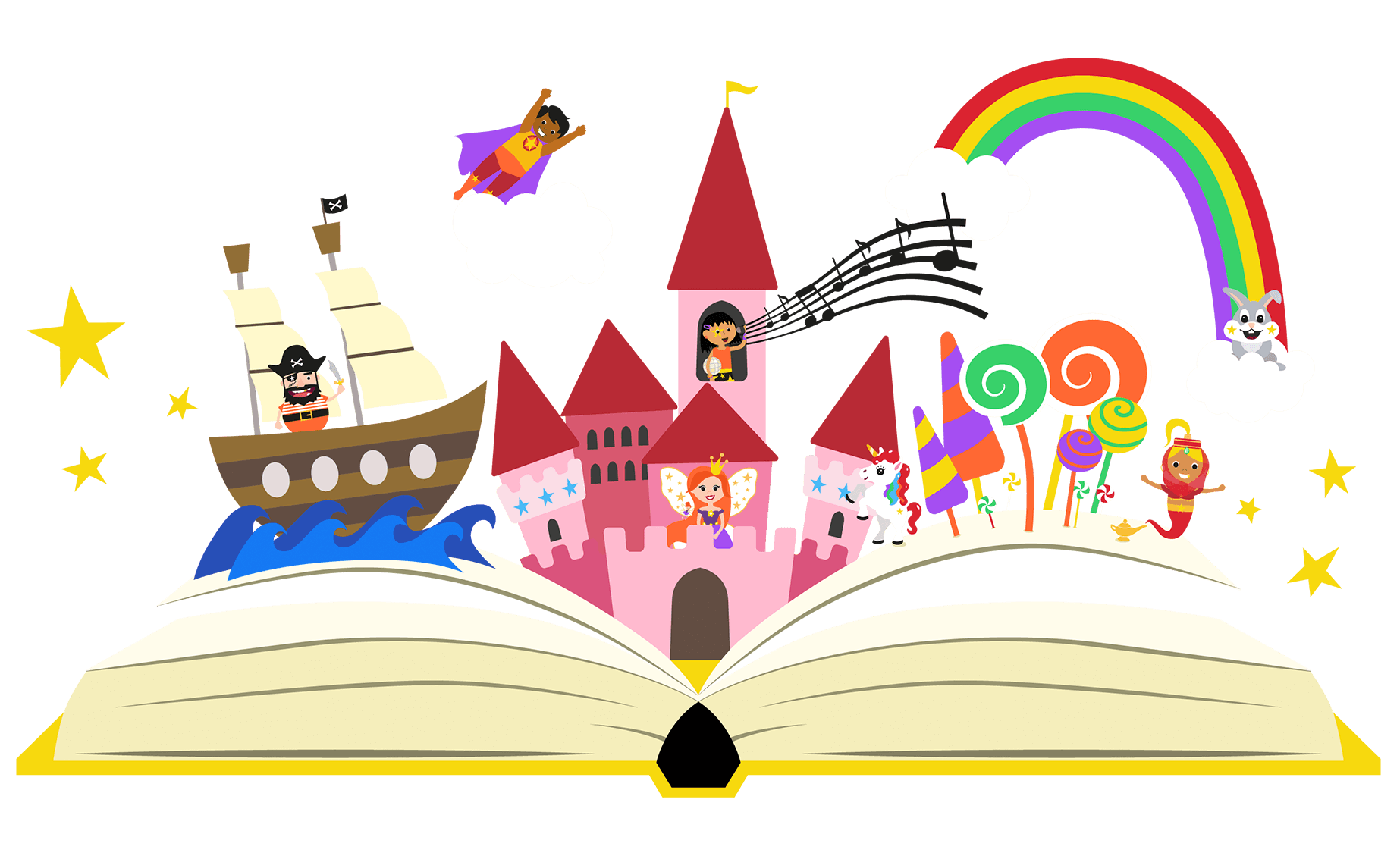 Who would you like to invite to your party?
Our themed characters are super excited to fly down the rainbow, all the way from Magic Land to make each party extra special, yippee!

Our 5 most popular themed characters you can invite to your party are the Genie, Fairy Princess, Super hero, Pirate and Disco Rockstar.
Each of our characters can carry out any of our awesome party packages.

Once upon a time there was a Genie Macker who found a magical lamp and whispered the magic words "Abracadabra Genie Mackers" and out popped a magical genie!

Our Genie is full of wishes and enchantment for boys and girls aged 2-8.

Once upon a rainbow there was a little Genie Macker who's dreams were filled with sparkles, flying and magical fairy dust.

Our Fairy is perfect for girls up to 6 years old but don't worry. If there are boys coming to your party, you can request that she focuses on pirate/princess tales instead!

Once upon a pirate ship a little Genie Macker was dreaming of sailing the seven seas and hunting for magical pirate treasure!

Our Pirate theme is grrrrreat for boys but also appeals to girls that love pirates too!

Let's get ready to rock (or floss!) Our Disco Rock Star theme is so super cool and is perfect for kids aged 7-9 year olds who like to dance and sing!

Once upon a planet there was a Genie Macker who's favourite thing to do was to PARTY!

Perfect for your little hero that likes to show off their muscles.

Our Limited themes are not available at the moment!

Our limited themes include;
Ariel, Barbie, Elsa from Frozen, Encanto, Minnie Mouse, Belle, Poppy from Trolls, Rapunzel, Halloween Witch, Cowgirl, Peppa pig, Harry Potter, Christmas Elf, Hawaiian, Ninja, Clown, LOL Surprise.
Know exactly what you want already? YOU ROCK!!
Head straight to our online booking form to get started
Book a Party
"Hi Dee, Can I just thank you from the bottom of my heart for everything you and you team did on Saturday! From the second you arrived you had the kids engaged! You are an incredibly talented bunch of ladies and had amazing patients with all the children. You were professional and consistent throughout the day and amazing with the children that were a little bit shy! I was incredibly impressed with your props and equipment. I will be highly recommending you to all my family and friends and had lots of enquires from guests at the christening looking for contact details. Everything from the first initial email to the day itself was perfect and professional. You are a truly magnificent bunch that a clearly happy in your work! Thank you so much again and we will definitely be booking again soon."

Gail Murphy : Brittas, Co Dublin

4 Year Old Claire

"I wanted to let you know how delighted we were with the entertainment on Grace's christening day. The feedback I got from all the children was tremendous and even the adults were impressed. We were so thrilled and Geniemackers really added to our occasion. I believe you play an integral part of many of my 3 year old nephews games these days too! Thank you so much for all your hard work and energy on the day. I will be recommending you to my friends"

Joanne, Irial and Grace Hope / Slattery: Rathgar

5 Year Old Bobby

"Thanks so much Louise for entertaining all the kids at a recent christening / birthday party. Louise kept both boys and girls of mixed ages entertained, the face painting was great we had pretty frozen girls, tigers, princesses, leopards and scars for the older boys. I would highly recommend Louise and genie mackers for any event or kids party. Thanks again x"

Elaine Breen : Glasnavin

6 Year Old Emily

"Thank you so much to Juliette for such a fantastic morning of entertainment for Peters 4th birthday party. They had such a brilliant party..the way you had 23 children under 5yrs captured for 90mins was amazing .. Peter is still talking about visiting you sometime soon in pirate land! I will be recommending you to anyone looking for party entertainment .. Well done ..Thanks again :)"

Dervla McArdle : Stepaside

"I would highly recommend Genie Mackers for any party to keep the children entertained. Paula was amazing with the children and managed to keep them all spellbound during the hour..not bad considering the age range was from 14 months to 11 years!! Nothing the children asked for was too much trouble and she thought of everything. The children are still talking about her and magic land."

Nicola Eustace : Templeogue

"Fairy Louise came to my daughters birthday party on Sunday last! She was fantastic and made my daughters day, especially her Elsa the Snow Queen face paint and the games! Thanks Louise see you next year!"

Audrey O'Hara : Ashbourne

"Just a quick e-mail to let you know how todays party went… Our Fairy Paula was truly amazing… The loveliest young lady my daughter and her friends could have been in the company of… She made sure everyone was involved including my 18mth old, always making sure she had plenty of bubbles around her… My daughter Grace has said it was the most magical and wonderful party she ever could have imagined and she wants Fairy Paula to return next year… I couldn't recommend you highly enough……Many Thanks"

Michelle O'Neill : Newbridge

"Thank you so much for the fabulous entertainment. Juliette put so much energy and enthusiasm into it, it was amazing to watch. We were so proud to see our little girl singing with the microphone as she is normally shy and wouldn't take such a brave step. You were great with her..not putting her under any pressure yet ready to encourage her and help her enjoy it. Thanks, it did wonders for her confidence. Excellent, professional entertainment. We will be recommending you!"

Niamh : Blackrock

"Hi Princess Lola, Thank you so much for coming to Nicole's party today. Nicole & Ewan went to bed tonight laughing about 'Funny Bunnys' favourite song. Thank you for the smiles, giggles, laughs and all round entertainment today. Every child at the party LOVED your visit. You made Nicole feel so so special and helped us create some very special memories from her 5th birthday party. You have an amazing talent and to keep 20 kids totally engaged with for 90 mins was not mean feat! Thank you once again. Theresa."

Theresa Donnelly : Clane, Co. Kildare

"Thank you so much for yesterday. Dee was brilliant. I didnt think the kids would let her go. The gore/special effects was great and when they saw her fancy paint work even boys were becoming princesses. She was definitely one of the highlights of the day. Thanks again for arranging at short notice. It could not have went any better. You are a lifesaver. I will definitely be recommending you guys in the future."

Ann Forbes : Rathmines

"Birthday parties are easier for the grown-ups and way more fun for kids with Genie Makers! Really don't know how these magical genies do it, but they manage to control the room and maximise the fun in a way I never could! Can't recommend highly enough."

Avril Spencer : Templeogue

"I just wanted to Thank you so much to Megan for entertaining my guests at Ella's Birthday Party last week. Everybody enjoyed every single minute of it! I really appreciated the break too..we will definitely be seeing you again xxx"

Girley Lugares : Saggart

"Fabulous Party. Thanks to Lola who kept all the kids entertained the entire time and they all loved their balloon animals to take home. Will be recommending Genie Mackers to all my friends :)"

Antonia Cameron : Delgany

"This is the third time we have had Juliette and she is brilliant at what she does the children love and you make life for the adults very easy. Also I love the way you included siblings. We will be using you again very soon."

Karen McDonagh : Monkstown

"I would recommend Genie Mackers to anyone. I had my sons christening in a function room with more than 20 kids and dey wer fully entertained for 90mins. From start to finish they all enjoyed it. Mira was great with the children of all ages. She had great patience with them. I just want to thank you for a great service you provided. I will be getting you again. It was exactly what I was looking for."

Amy : Dublin

"I just wanted (actually I felt obliged) to mail and say a big 'THANK YOU' to Audrey for a wonderful job at Lauren's 5th birthday party. To keep 17 four / five year old girls entertained for 90 minutes is no mean feat, but she did it effortlessly. To such an extent that the adults didn't know what to do with themselves – the children didn't leave Audrey for one minute of the show. They were completely engrossed in Audrey's performance. She also made Lauren feel very special on her birthday, which was a lovely touch. We will be using you again, but will also recommend you to other parents. Job very well done!!!"

Garrett Hickey : Foxrock, Dublin

"Our children had such a lovely time at their birthday party with the Magic Genie! From the time Laura came to our front door our children were super excited and she was brilliant with them…from letting them excitedly show her the party tables they had helped decorate to getting them involved as her special helpers. They loved it as did all their friends. The best sound ever was the sound of 20 kids all laughing their heads off at the same time at her Magic tricks;) It was great. We had given the names of just a couple of our children's favourite songs at the start and my little boy is still trying to figure out how the Magic Genie knew his favourite Thomas song…whilst Frozen was a massive hit with everyone waving their balloons to Let it Go! Thank you Juliette for the way you handled our enquiry from the start to now and Laura for the great party!!!!"

Audrey : Donacarney

"All I can say is that the entertainment was outstanding. The kids were kept thoroughly entertained and were so good on the day. They had a fantastic time and loved everything from the face painting to the games! Would only be delighted to use you again as I think it's fantastic entertainment with so much variety the children never lost any interest. Thank you so much GenieMackers!"

Tonya Murphy : Boomers pub, Clondalkin

"I would just like to drop a quick note in reference to a wonderful job your employee Louise did at the Greenes Pharmacy launch. She was terrific with all the local children and stayed on for an extra half hour upon last minute request without any hesitation. If we need similar services again, we will of course be a returning customer."

Aoife McCrum : Marketing Manager SoolNua

"Just a quick note to say a huge thank you to 'Anne' our genie yesterday for our little girl's 1st birthday party!! She was fantastic with the kids and so professional. There wre 11 children and every one of them loved Ann and the variety of activites she carried out, there was something for everyone – aging from 1 to 11! I had lots of brilliant feedback from all my friends and family about how the children are still talking about Anne and I know they will have memories about their time with the Genie and her lamp forever!! The biggest thank you to Anne and Genie Mackers. I will certinly recommend you all highly to everyone!! You made the day."

John & Therese Connolly : Lucan

"I would like to thank Anne for being such a great Genie for my daughter Ava's 5th birthday. All the children had a great time & many wanted to keep their face paint on going to bed! How she managed to keep the attention of 15 4/5 year olds is beyond me. But the whole experience was completely stress free. I would highly recommend Genie mackers & would definitely use the service again, was worth every euro! Thanks again"

Carla O'connor : Skerries, Dublin

"I just wanted to send a little message to thank yourself and our entertainer Anne… The service from start to finish was beyond excellent! Our entertainer was exactly what I wanted.. Not only did she capture all the children and toddlers (a hard job for most) but the entire room of adults also! She was brilliant, hilarious, silly and loads of fun! I had so many people asking where I found her and very happily recommended genie mackers to all! We will definitely be in touch again in the future"

Carolyn Butler : Howth

"Thank you so much again for everything! Abbie and all her friends said it was the 'best party ever'. Everyone enjoyed it so much, thank you it was brilliant!!! I thought it would be hard to entertain a room full of 9 yr olds but WOW they loved really loved it!"

Tina Browne : Kildare

"Emer was fantastic and got right into things when she came in the door. Don't think she even paused for breath! Niamh(7) loved the parachute games and magic in particular.. and of course singing along to 1 Direction! Well done Emer , I'm very impressed. Thank you for making my job easier :)"

Sinead Callaghan : Co.Louth

"It was with some trepidation that we agreed to allow our daughter Molly (5) to have her party at home. We were concerned as to how we could keep 10-15 very sophisticated 5 year olds amused for the afternoon, and Princess Penny swooped to the rescue. Within a couple of minutes of her landing the house was filled with the sounds of giggles and squeals of delight. This continued until the ery end when all the dancing and games lead to little faces appearing at the kitchen door to ask "when is the party food……….we are starving!!!!!!" Thank you thank you thank you. (Two of the parents at the party have asked for your details Penny to come to parties in their houses, so I gave them directions to the magic tree in the Park where you live (the one just to the left of the gate as you go in……………..isn't it…………………)"

Anastasia Ward : Terenure

"I just wanted to say thank you for sending us such an increedible Pirate entertainer today. The kids had such a great time. Both girls and boys said that this was the best party they have ever been to so Jack is chuffed with himself. Thanks again!"

Claire Willis : Stillorgan, Dublin

"Thanks to Paula our 'Fairy Princess' Shannon 6 and her friends had a wonderful party Paula keep them all so happy and involved in all the fun and games. They really loved funny bunny to see all the laughing and screaming with excitement was great even Nathan 3 kept talking and imitating funny bunny saying he's "so funny" . Finally Shannon is asking fairy princess Paula to all her birthdays can't get better feedback than that!! Thank you for making it such an easy party for us :-)"

Janet Curley : Kildalkey

"Amazing afternoon juliette- I don't think I've ever seen so many excited young kids and adults in the same room! From the moment juliette arrived to the minute she left, my daughter was in princess fairyland, with all her friends singing along for her birthday. The music, sing Along, magic in particular was her favourite. All the kids loved it….their little faces were angelic, and the sound of the ecstatic laughter from them was worth every cent!
I totally recommend juliette to all my friends, and it was definitely a birthday to remember for my princess!"

Antoinette OConnor : Kilcock

"A Big Belated Thank you for the amazing party for Lucy last Sat week! She had an amazing time and her and her friends are still talking about it as the best party ever! My husband was totally in awe of how you managed to control a group of twenty-odd hyper little girls! Thanks again and hope to see you for another party soon."

April Spencer : Templeogue

"Juliette, A huge big thank you for our pirate party on saturday, kids, parents and grandparents were enthralled by your entertaining skills. All the kids went home happy and as parents we cannot ask for more than that. We could not choose which was the best part of the entertainment so I have ticked all the boxes. I think Funny Bunny has to be the best ever. We look forward to having you again at future parties and would have no hesitation in recommending you to friends and colleagues."

Simone Bulmer : Malahide

"A massive thank you to Genie Mackers for being so wonderful at my son Jonh's 5th birthday party last weekend. From the moment she arrived she had the children captivated with face painting, magic and not to forget her cheeky rabbit "funny bunny"! We will definitely be asking her to come again for my little girl's birthday party."

Sari Eyres : Booterstown

"Wow Juliette you were fantastic! You made Rebeccas 7th birthday so so special. The way you entertained kids with your special magic… Rebecca has already told me she wants you for her next birthday (which I have booked already!). You are always smiling and the kids really respond well to you. This was the first party I have ever felt I didn;t have to be in control as you did everything ( on your own !!!) and there were 20 kids there!!…you were just brilliant and it was a pleasure to work with you .. everything just ran so smoothly! I can't say enough : Thanks so much x"

Andrea o'reilly : AndyPandy's Montessori owner Donabate

"I just wanted to send on a big thank you email for the entertainment carried out on our wedding day. The entertainer really went all out and the kids absolutely adored her. They were so happy and excited by the whole entertainment, they wanted to come back again the next day for more. The kids are quite shy and she really brought them out of their shell, so a big thank you to her. The parents were very impressed and asked me how I came about finding you, so I gave them your details for their kids birthday parties. I have some photos attached of the kids having a blast too!
You can really see how much fun they are having. Im positive this won't be the last time I will be talking with you"

Karena and Stephen Thai : Dublin

"Hi juliette,
Thank you so much for such a wonderful day for my daughter Siomhe on her 4th birthday . All her class and cousins have not stopped talking about it. Breanna even wants you for her next birthday in January. You're a great inspiration and full of life. I could not do what you do (great patience)."

Lorraine Purcell : Caragh

"Thanks very much to Pirate Audrey for a great party, all the kids had a great time and the Birthday Boy was made to feel so special – he thoroughly enjoyed himself! I would have no hesitation in recommending Genie Mackers to anyone planning a party and I've already passed on contact details to a number of the 'Mammies'!!"

Miriam Cassidy : Swords

"Thank you so much Emer for entertaining all the children at my daughter Alisha's communion party on sat ,you were fantastic ,you had the children captivated from the moment you came in until the moment you left ,they had such a wonderful time with the face painting ,the games ,the magic and sing alongs.The other parents couldnt believe how they could sit back relax and have a catch up with their friends and know the children were having a ball,great day and would recommend you to anyone.thanks again !!"

Alison Hanley: Baldoyle

"Thank you so much for Poppys party on Saturday. She and all the children had a magical time. I've had texts from all the kids mums. Watch out there are a few who want to go to visit you in fairyland!!
Again thank you so much it made being 5 so special for her."

Gill Mooney : Sandycove

"Juliette, I just wanted to say you were absolutely fantastic earlier. Leah had an absolute ball. You made her birthday so special she will be talking about it for a long time.
All the kids thoroughly enjoyed it and the parents that were lucky enough to see you couldn't believe how good you were. Thanks again!"

Helen O'Callaghan : Bray

"Thank you so much to Dominique who did a fantastic job yesterday at our little girl Freyas 1st birthday party. As it was our 1st time to host a childrens party(and will happily admit to being clueless as to what to do) we were delighted when our fairy godmother turned up to save us. From the minute she arrived the children did not leave her side. Dominique was fantastic, she made every child feel very special. Even the adults enjoyed the games and funny bunny. We will definitley be recommending Dominique and Genie mackers to all our friends. Thanks again"

Niamh Byrne : Swords

"Juliette! I don't know where to start or how to thank you enough for yesterday!
From the very second my front door opened until it was closed again behind you an hour and a half later you were just fabulous, so incredibly professional and just an absolute joy to have as part of our party!
You couldn't have done anymore for us to make us happy ( unless of course you could have iced the cake that I spent the whole show icing!) and to say Lily enjoyed it – well she's still all chat this morning about her 'special guest' and lovely funny bunny!To have all of those children in one room, all in fits of giggles and totally enthralled by your show was brilliant. Even a few parents who were only planning on dropping off then leaving got wrapped up in the show and stayed!Your face painting speed and talent are remarkable! We had a bunch of gorgeous glittering butterfly's and fairies looking so delighted with themselves!To my absolute astonishment the play room is still spottless- the kids never left your side I think the whole time!! You are without a doubt born to work with kids and they loved you!!"

Sabrina McGrath : Kildare

"I would really like to say how happy my little girl was when the special guest arrived at her 6th Birthday party. All of the children (including the boys) were amazed by Fairy Dominique. The magic show, the lively energetic games, face painting, every minute was enjoyed by all. The children were still talking about it when they got home. Fairy Dominique made my daughter feel very special by including her in all games. She was so happy "Thank you very much Fairy Dominique for making my day so special" said Niamh. Dominique was so confident with the children and made sure everyone was happy before she left. Worth every penny!!!"

Paula Keating : Navan

"We were blown away by the wonder of Juliette (Genie Mackers). Even the adults were amazed by the wonderful entertainment she brought to the show. We can not thank Genie Mackers enough. It was an incredibly Entertaining Event. I would recommend Genie Mackers to everyone who wants the very best in children entertainment for their loved ones. Genie Mackers made and stole the show…. We look forward to having them back next year to entertain us again. :D"

Margaret Kerslake : Tallaghts Got Talent!

"Dear Juliette, A very Big Thank you for bringing a smile to the faces of over 1000 special children and their families from all over Ireland at the RDS Concert Hall. Having their special dream come true of going to a real concert and meeting their idols, getting autographs and photos will give these families so much hope for a better tomorrow. Where there was so much darkness now there is sunshine…We cannot make dreams like this come true without a lot of special people sharing the dream with us and you have certainly done this. Our sincere thanks to everyone who made this dream possible in particular yourself, Juliette. The kindness and hospitality shown to all the children and their families was second to none!"

Shay Kinsella : Founder/Director of 'Share a Dream'

"We have had the pleasure of Genie Mackers at the MS READATHON Awards Ceremony for the last two years. They have managed to entertain about 100 children from ages 6 right up to 16 which is not easy! They kept all the kids entertained with fantastic games, balloon animals, karaoke and lots and lots of fun which meant we were able to get on with the rest of the organisation for the morning. I would have no hesitation in recommending them for all types of childrens events and we look forward to working with them in the future."

Cheryl Gunning : MS READATHON Manager – Ms IRELAND

"We had Laura here doing our daughters joint party on Saturday and she was fantastic. From the very second she arrived at our house she made the girls feel so special. They could not believe she knew there names and ages and are still talking about all the magic powers (and doing the chicken dance !!) .. All the kids had a great time and all the parents that were here thought she was fantastic aswell. Made our day totally stress free… Thank you so much would highly recommend you guys"

Suzanne Doyle : Wicklow

"Juliette is amazing with the kids and she gets their total concentration with very creative entertaining activities. You only need to look at the happy and excited faces of the kids to see how much fun they derive from being with her. I find that so reassuring during my parties (I have hired her more than once) because I know that the kids will be so engrossed for the one to two hours that Julliette entertains. Lastly, she is great with summer camps too"

Winifred Ikhine Akinyemi : Adamstown

"Juliette, just wanted to say a big thank you. Genie Audrey came to entertain about 20 kids for our twins christening and they all had a ball. She kept all the kids entertained which meant we were able to relax and enjoy the day also. She made our son feel very special as he has been a little left our since his sisters arrived. Thanks again for sending on such a wonderful genie."

Niamh Arnold : Foxrock

"A big THANK YOU to our Genie who made Grace's 5th Birthday really magical for her and all her friends on Saturday. The children have not stopped talking about her. They all had a fantastic time. I will certainly recommend the entertainment for any party. Thank you, you made the day for the children, the adults and me."

Karen Ryan : Skerries

"Genie Mira was absolutely fantastic with the children on Saturday. All the children without exception had a fantastic time with her and all were asking about her the next day i.e. if she is coming back. She is extremely professional, entertaining and it was absolutely great value for the service she provided for the children. Even the adults were entertained and said she was amazing. I cant thank you enough as it made Zahrahs day – the face painting, balloon animals etc was a real hit with all age groups. I would definitely have her come over again the next time we throw a party."

Carmel, Brendan and Zahrah Horgan : Dunboyne, Meath

"Just to say a BIG THANK YOU to you and Penny. You helped to make Rhiannon's communion party a magical day to remember. Rhiannon, her cousins and friends (and all the adults) really enjoyed the entertainment. Our Genie managed to include all the kids even the shy ones into the magic of the day. We all had a fantastic time. Watching their faces as the magic unfolded, the bubbles, the magic, the party games, the singing, the dancing all made for a day to remember."

Carol Black : Donnycarney

"Our Genie arrived very punctually and ready to go for our daughters Communion Party and the children loved every minute of it – watching their faces as the magic unfolded was just great! There were 15 children from 3 – 9 and Ellie was fabulous – especially as we didnt have a massive amount of space…. the kids had a ball (so did Nana and Grandad!!!lol!) My daughter called it her BEST DAY EVER and I know Ellie played a huge part in that….thank you so much.."

Lucy O'Reilly : Blanchardstown

"Penny did a really great job & gently included Rachel & made her feel extra special on her big day. All 16 children from 11 months to 7yrs of age were enthralled from start to finish. As for the adults (from 30somethings to 65+) they were equally captivated! All peeking their heads through the doorway to catch some of Pennys magic. In hindsight, I should have taken the hinges off the door to give us big people a better view!
Penny made an already great day, really super & we just want to say a big thank you to her."

Daphne Andrews : Clontarf

"Entertainers are in great demand for home parties and one who comes with good word-of-mouth recommendations is Genie Mackers aka Juliette Rahill. An actor, artist and musician…."

'The Irish Times'

"Aileen Dennison likes her childrens parties to be personal family occasions. For the first time, she enlisted the help of an entertainer, Genie Mackers, for her eldest daughter Rebeccas sixth party It was a big decision to get somebody in.' But she was delighted she did :'Juliette had the children eating out of her hand. To see their faces, it was priceless."

Sheila Wayman 'The Irish Times'

"A big thank you to the wonderful Pirate Ellie who made Jack's 5th birthday party really magical for him and all of his friends on Saturday. His little sister Mia is already planning her 4th birthday in October."

Loretta McCann : Kilcloon, Co.Meath

"We used Genie mackers for a 6 year old girls party. I found them very professional to deal with & had good creative ideas. Juliette and her helper arrived on time & were very productive with the time allocated.We had a group of forty children, all very excited and demanding but that did not prove a problem – as they worked through the group with speed and ease. They engaged with the group, capturing their imagination with magic tricks and dance. The party was shared between 4 girls, alll of whom were made feel 'special' on their big day. I would highly recommend genie mackers for children's entertainment."

Niamh Mac Hale : Mount Merrion

"Emer hosted the party for a group of 4 and 5 year olds and it was brilliant, she was great she really held the childrens concentration for the full hour and a half. The kids cannot stop talking about her. Would highly recommend Emer and will definitley be using Geniemackers again. Emer really made Keiras birthday very special and we cannot thank her enough."

Alison Lynn : Swords

"Juliette, just a note to say you did a superb job for my son Daniel's birthday, I am still shocked that you can keep 5year olds enthrawled for so long, a true skill."

Anna Healy : Terenure

"I had my sons christening party on sunday 13th feb , the kids entertainment was supplied by Genie mackers ( Penny), my eldest son and his friends ( junior infants class) had a fantastic time as did other kids varying in ages from 1yr – 10 yrs, Penny our entertainer for the day was enthusiastic, funny and involved all the kids at all times, a truly memorable day, it was non stop games fun magic a rollercoaster of sheer delight for all the kids, penny was a natural entertainer engaging the kids for 2hours with none of the kids straying at any time, if you want your children to have a truly magical day then take my advice and book genie mackers, it was especially nice that my eldest son nearly 5 yrs thanked his baby brother for a fantastic party and felt truly special on his baby brothers celebration, Sincere thanks penny."

Noeleen Smith : Dublin

"I want to pass on my sincere thanks to Mira for all the fabulous work she did at our party. We had 21 3 and 4 year olds and Mira had them eating out of her hand. She made the party so easy for all of us, it was a pleasure. I have never seen so many girls sit so still for all the entertainment. They were completely engrossed. The face painting was the best I have seen and the magic bunny was great fun. Lots of the parents of the kids have told me that the girls were talking about the princess fairy who did the painting and magic and how much they loved her. I can certainly recommend the entertainment for any party, thanks to you all."

Karen and Darcey : Booterstown

"I would just like to say a great big thank you to Juliette for making my kids and their friends day. They loved it all : the Magic, Face painting, Balloon animals, Dance, Puppets, Party Games, Karaoke and Music. They all had a fantastic time."

Debbie Kay: Dublin 12

"Thank you so much Juliette for providing the best children's entertainment at our Happy Faces Day charity event. The kids had an absolute blast and did not want to leave. Neither did the mothers since their children were so amused. The balloon modeling and face painting was the best I have ever seen. I have recommended you to all of my friends and will definitely have you back again!"

Tanya Crosbie: Malahidegigglesandsmiles.com

"Thanks for a great party Juliette, Molly was thrilled!!"

Aisling McNiffe: Straffan

"My little princess was soooooo impressed with the Fairy Princess at the party yesterday that she's asked if she can come back to our house for a play date. Just came back from playschool to be told Amelias party was the best of the year. Thanks for making my princess the happiest little girl on her birthday and goes without saying see you same time same place next year…."

Mandy Daly: Braywww.prematurebabies.com

"Juliette, thank you and Sarah so much for such a great party, you were fab! Darcy just loved it, you did a great job"

Niamh Crowley: Foxrock

"HUGE thank you Juliette, you were fantastic! You are getting rave reviews off all the mums. You do a wonderful job, the little ones loved you."

Charitycraft Fair: Castleknock

"I Just wanted to pass on my thanks to Mira for a fantastic performance on Sunday. All the parents (including myself and Kev) were really impressed and the kids had an absolute ball. She kept all the kids entertained from start to finish and really made Molly's Christening a day to remember. thanks so so much"

Julie Aspill: Finglas

"Juliette and Domy: Thank you both so much for today. The children had a ball and the feedback from the parents has been fantastic. I'll be sure to hang onto your details and pass them on to anyone looking for a great entertainer."

Ailis Colleran :Greenfield Park Residents Association : Santry

"Ellie and Kat did a really great job on Saturday and the kids all had a ball. The comments about the entertainment from the parents were very complimentary, so I will be sure to pass on your details to them. Thanks again and Merry Christmas to you all."

Nicola Reidy : Independent Trustee Company.i.e

"Genie Juliette and Fairy Emer were lovely and really entertained all 40 children. Everyone had a ball. They worked hard from start to finish using a wide variety of entertainment including face painting, puppets, balloon animals, party games and of course best of all the Magic Show, I would definately recommend Genie Mackers. Thank you both."

Helena McHugh :Oriflame Christmas Party : Bray

"Juliette, Thank you for a brilliant show at scoil ui Riada. All of the children really loved it."

Catriona (Teacher) and Seamus O'Mhirithe (Principal) : Scoil ui Riada : Kilcock

"Thanks so much to Juliette for making my daughter Nicole's 5th birthday such a success. She really kept the girls entertained while I was busy getting the food ready. I was really impressed with her enthusiasm, original balloon models and beautiful face painting. I even heard from one parent that the girls were debating whether or not Juliette was the real tooth fairy in the car on the way home-cute! I would totally recommend her."

Joanne Ryan : Cabinteely

"We were delighted with Ellie as an entertainer for our little boy's party. The kids really loved her and she did some gorgeous face painting for all the guests. Best of all was the magic show. Thanks a million Ellie!"

Sinead Kelly: Blackrock

"I couldn't rate Juliette highly enough. The children were captivated, and the snoring bunny was the talk of the creche on monday morning!"

Aileen Roberts: Leopardstown

"Big Thank You to Penny for Kelly's 3rd & Sophie's 1st Birthday Party. The Birthday Party was a huge success and Penny was just fantastic with the kids, she deserves a pat on the back she did a brilliant job we were delighted with the Party,The face painting was the best I have ever seen. The kids had an absolute great time and wanted to know when you were coming back.So thanks very much and I am sure we will use your brilliant service again and we will be recommending your kids Parties to all our friends"

Suzanne Ledwith: Stamullen

"I would like to thank Emily for entertaining the children at my daughter's Communion party on Saturday. She was fantastic. In fact she did such a good job most of us forgot we had kids for the hour and a half! All the children from 1 – 12 years loved her and had a great day. They loved their personalised balloons. A number of parents rang me the next day to say the children were still talking about the 'entertainer girl'. Thank you, Emily, you made a wet day full of fun and enjoyment for all of us . I would recommend Emily and Genie Mackers to any one planning a childrens party."

Mary Kelly: Rathoath

"Juliette provided the entertainment at our daughter's Communion on Sat 15th and she was brilliant. She kept the kids totally entertained and they loved the magic tricks,the games and the singing and she's an absolutely fantastic balloon maker,even the adults were impressed!! Juliette has a lovely bubbly,friendly personality that totally shines and the kids really related to it. Thanks Juliette from Emma,a very happy Communion girl:"

Niamh L. : Lucan

"Juliette was absolutely wonderful at my daughter, Ellen's, Communion party last Saturday. Ellen said she was the best entertainer she's ever seen…..high praise indeed. Our party was at home and for adults and children which is very tricky to do. When Juliette arrived it was mayham, she whisked off the children and just got stuck in straight away and just got on with it. We didnt hear from Juliette or the children (all 20 of them)for all the time she was here. She had them totally enthralled and entertained. I was able to serve food to the adults and enjoy an adult party indoors while the children were entertained outside. It worked really well for me. Thank you, Juliette, you made the day for both the children and the adults and me!"

Sheila Sexton: Delgany

"Juliette, I just wanted to thank you properly and tell you what a great success you made the party. All the girls LOVED the party. You really did a super job!! I will be delighted to recommend you to others who are considering having an entertainer for their party. Thank you so much again."

Michele O'Crowley: Clonskeagh

"I booked Genie Penny for my son Seans Christening and I have to say it was worth every penny. The children loved it, some saying it was the best party they were ever at and because the kids were happy – so were the adults. Thank you so much and I will defo be booking you again!"

Emma Woodlock: Tallaght

"We hired Juliette for our son's 5th birthday party which we held at home and were delighted – she (and her assistant) had a room of lively 5 & 6 year old boys captivated for 90 minutes and they had a great time. There were plenty of games, magic tricks and lively music which kept them entertained; I've never seen so many balloon-swords in my life! Our son and his buddies had a great time and that's the feedback that matters. Would definitely recommend based on our experience."

Dermot Moriarty: Blackrock

"Juliette, Thank you so much for coming to Caoimhes Party on Saturday, it was just fantastic from start to finish. I couldn't believe that you held their attention for the whole time. The kids had a wonderful time and the parents thought it was fantastic as well. Caoimhe really thinks you are a fairy and that you have gone back to fairy land and will come back again next year, which is sweet. Thanks again Juliette and for anyone looking for a party entertainer, I will be telling them all about you."

Maura O'Shea :Newbridge

"I wanted to thank Laura for her your performance, it was super. Not only were the kids happy but the parents were too. Everyone loved it and were praising your work. Juliette, I want to thank you as well for desigining the card/invitation. Every one loved the design and kept asking me about it. I am going to recommend you to all of my friends :-)"

Ritu Pitalia: Sandymount

"Juliette, Thank you so much for coming to Caoimhes Party on Saturday, it was just fantastic from start to finish. I couldnt believe that you held their attention for the whole time. The kids had a wonderful time and the parents thought it was fantastic as well. Caoimhe really thinks you are a fairy and that you have gone back to fairy land and will come back again next year, which is sweet. Thanks again Juliette and for anyone looking for a party entertainer, I will be telling them all about you."

Maura O'Shea: Newbridge

"Thank you for everything yesterday Juliette! Kate and Jane had such fun…and so did all the boys and girls. Looking back on the photos of the magic..and the delight on my two girls faces: It was such a memorable day for them."

Rigina Mulligan: Navan

"The party was a huge success, from start to finish the children had a super time. I would highly recommend geniemackers to anyone."

Catherine Carroll: Portmarnock

"Juliette, Thank you for doing such a great performance at Erin's party. She had a brilliant time and all her friends thought you were great. That was our first time to have a children's entertainer and we were very impressed."

Karen Shelton: Gorey

"I would just like to say a huge thank you to Genie Juliette for the fantastic job she did at Eoghan's christening last Sunday. All of the children had a great time and were talking about it for days after. I will definitely book her again and would highly recommend her to my friends. Thanks again."

Doreen Nugent: Artane

"The party was a huge success, from start to finish the children had a super time. I would highly recommend geniemackers to anyone."

Catherine Carroll: Portmarnock

"We had Juliette on our Open Day and the kids loved it!!! It was fantastic! She is full of energy and great with the kids (and funny too!) She comes highly recommended!"

Thaisa Pena, The Little Gym: Liffey Valley

"Once again a very big Thank you to Juliette for making our 5 year old Daughters birthday party just magical. The girls and boys enjoyed you so so much, the giggles and excitement on their faces will always be remembered. And most of all, to see Ava sing in front of everyone for the first time ever was amazing, your Magic Spells worked ! It was so refreshing to meet someone as professional, enthusiastic and as entertaining as you. Well done !! I know Ava and her friends will be expecting to see you every year !!"

Aideen and Michael Davern : Sallins

"Juliette..Thank you again for entertaining Lauren and all her friends she really enjoyed every minute of her special day. You are truely talented with kids and have such a wonderful way of catching their attention in such a lovely way! I studied Montessori and love kids but what you have is very special. Lauren loved it and I have heard a few of her friends say they want you for their birthday. I will definetly use you again"

Valerie Brennan: Ballycullen

"Juliette..Thanks a million for making Brendans birthday so special. He had a wonderful time and I know all the kids at the party did too. The way you captured the kids attention was superb and you made our jobs so much easier! We will not hesitate in recommending you to our friends."

Damien and Sunita Kenny : Sandyford

"My daughter and her friends really enjoyed the entertainment, they particularly loved the Magic show, Karaoke and Dance! You both made it a great party!"

Brenda Byrne: Stilorgan

"Penny! Thanks so much for a great day. Everyone was delighted, the Christmas party was a real success, you were all brilliant. Looking forward to seeing you all next year!"

Yvonne, (Portlands Residential Association) Maynooth

"Just to say thanks to Emily for Sunday ? the place was packed ? we had a great turn out and raised a lot of money for a very good cause. All the children loved the show and we have had very good comments."

Marie Richardson Sales and Marketing Manager: Clarion Hotel : Liffey Valley

"Hi, I just wanted to say how great Ellie the Genie was at entertaining all the children at my sons christening. All the parents commented on what a great show she did.
Thanks again"

Mullins family : Phibsborough

"A huge thank you to Penny for all of your excellent work on Sunday at Jack's party. He had a fabulous time thanks to you!"

Tara Hogan: Rathfarnham

"Juliette: thanks a million for the fantastic entertainment that you put on Saturday at Aaron's party. All the kids had a ball and you really kept their attention. I would definitely recommend you to my friends. The ones that were at the party were very impressed. It went a lot smoother thanks to you.
Thanks again and Aaron loved every minute of it."

Sinead McDonagh: Lucan

"Just a quick email to say how wonderful Fairy Penny was at Katies birthday party on Saturday. She was fantastic with all the children from the two year olds to the six year olds. She was patient, funny & charming. Id have no hesitation in booking her again or recommending her for friends parties.
Katie & Sarah are still talking about the lovely fairy who made the day so special!"

Audrey Anderson: Kill, Kildare

"Ellie was amazing and the kids had a fantastic time! Sophie absolutely adored the bubbles and parachute bumps and has been chattering about "bubble dancing" all week-end. It made for some brilliant photos as well."

Libby Garvey :Ballsbridge

"Juliette, I Just wanted to say a big thank you. All the kids had a wonderful time at Aoife's 7th Birthday on Saturday. Aoife is still talking about all the magic she had. I would have no hesitation in recommending you to anyone. You are truly wonderful with the kids."

Ciara Murphy :Beaumont

"Thank you so much for yesterday Juliette, you were brilliant! Just what I needed (especially with the weather). Thanks for making Cayla's 1st birthday so special"

Lindsay : Stamullen

"Thanks to Emily for the entertainment she gave the kids at my son Bryans Birthday party Sunday in Clondalkin. The kids are still talking about it. You were fab."

Marguerite Boggans Clondalkin

"Juliette, Thank you so much for being a wonderful entertainer on friday at Ethans party. The kids were spell-bound, and it was nice for me to be able to relax and enjoy the party too knowing that someone else was taking charge"

Philippa Sheils: Balgriffen

"I would like to thank Genie Penny for doing an amazing job at my twin 6 year old's party. She captured the attention and imagination of all the children both boys and girls and they had a wonderful time. She has a wonderful calm, caring and fun manner and it was lovely to see her put the children under her "spell" as she carried out her tricks, face painting and magic carpet games."

Suzanne :Donnybrook

"Emily, thank you so much for today! Allannah had a wonderful day and is now fast asleep!"

Susan Katye :Louth

"Hi Juliette, thank you so much for coming yesterday. It was absolutely fantastic!..how you managed to entertain such an age range was really a talent! I couldn't recommend you highly enough."

Jackie K. : Newbridge

"Juliette, I just wanted to say a big thank you for the wonderful show on Wednesday. Amelia had the best day ever and is still talking about you. The day would not have gone aswell were it not for you. All the Mums were very impressed."

Mandy Sherratt, Bray

"I had Juliette for my daughter Amy's party. It was our first time to get an entertainer and it was a great idea! It was very good value for money. Amy really had a great time and all her friends did too. Her favourite aspect was the Face painting and the Magic. I wouldnt change any of it to be honest, it worked really well for us and left me free to prepare the party food for the kids."

Yvonne Melinn, Lucan

"Thanks again genie Penny. Emma and her friends loved the show."

Penny Reilly: Bray

"I just wanted to say thank you for yesterday, Mayah had a wonderful day and all the kids had a great time;-)"

Chantel Molloy: Loughlinstown

"Dear Juliette,
A huge thank you for the fabulous job you did at Sheenaghs party on Sunday. She absolutely loved it as did all the other children.To see them all so entranced was fantastic. Entertaining a mix of boys and girls with an age group ranging from 6 to 11 is no mean feat!! Thank you for creating such a lovely fairy environment. We will definitely see you again"

Erica Rowland :Clane

"Hi Genie Juliette,
Just wanted to give say a BIG THANK YOU for making Chloe's party so special yesterday. Everyone really enjoyed the show adults included it was great to see the kids having such a great time. I will most definitley recommened you to all. Chloe loves her bday balloon what a surprise!"

Sinead Doyle : Clondalkin

"Hi Juliette,
I just want to say thanks a million for the absolutely fabulous entertainment you provided on Sunday for Caoimhe's party. You had a very professional approach in dealing with the organisation of the party but equally you had such as excellent way with the children. From the moment you arrived and met Caoimhe and all the children, right through from the face painting, to the magic to the party games you set the scene and told the story of the genie. It was excellent and something I think the children will remember and certainly my own children were doing magic for the rest of the evening! I think the adults also enjoyed the entertainment just as much as the children. I have received excellent feedback from them with requests for your details. I will certainly be holding onto your details and would have no hesistations in recommending you. Thanks again for a most memorable party."

Catherine Kearney : Wicklow

"Hi Juliette,
I just wanted to thank you so much for Jakes Party on Saturday it was fantastic, you did an amazing job. All the Mums were very impressed and Jake had a ball which was the main thing."

Linda : Moneystown

"Juliette! Thank you again for all the entertainment you provided at Georgina's Communion party on 30th May. All the children had a great day and not forgetting all the adults who were very impressed also. Georgina really had a great day and is still talking about it. I've passed on your fliers, and would recommend you to anyone."

Christine O'Byrne :Swords

"Thanks for a great party Juliette! Amelia had a ball!! All the kids enjoyed themselves."

Sinead, Killiney

"A big thank you to Juliette and Penny! Lizzy and her friends had an absolute ball. You guys were a huge hit and really made her 7th birthday special."

Lisa o'Dwyer, Harolds cross

"Hi Juliette, thanks for entertaining the kids at the Community center day. They had a great day and the mums were very impressed. My daughter keeps asking where the Fairy and Pussy Cat are gone so you certainly left a good impression. I would certainly recommend you to everyone. Sallins parents and Toddler group would be delighted to have you back again."

Lisa Toddlers Group, Sallins

"Many thanks to Genie Penny for giving the kids a brilliant day"

Tania, Kilcullen

"Hi Juliette I just wanted to say a big thanks for coming along to my fund raiser to help us celebrate 60 years of the Universal Declaration of Human Rights, you were every kids wish come true and an absolute genius with a balloon :-)"

Sarah Doyle, Human Rights Activist

"A very sincere thank you for your wonderful support on World Children's Day at The Ronald McDonald House. You made such a difference to the day and everybody there thought you were amazing and extremely patient and kind"

Marian Carroll, CEO (Volunteer) Ronald McDonald House

"Thanks a million for today you were great. The kids had a great time."

Clare Donnolly, Walkinstown

"Dear Tooth fairy Juliette, Thank you for creating a wonderful party for Nina, your visit was a huge surprise to her and they all had the best time ever."

Katrina, Drumcondra

"juliette! Thank you so much for entertaining the 27 kids at Laras birthday party. It freed me up completely to prepare the food! You obviously ran them around and expelled a lot of energy, as they were absolutely ravenous at 2.30pm! They loved the face painting, the limbo dancing even got the boys involved despite the fact it was a High school musical party! The bubbles were a great hit too. Lara had a ball. Thanks a million. I will certainly recommend you to my friends and we will use you again. You were so lovely with all the children and it was a pleasure to have you in our home."

Barbara Higgins, Malahide

"Many thanks Juliette for the party entertainment yesterday. I didn't quite realise myself how lively they would all be and you did a great job to settle them, capture their interest and give them some fun. Something I know I could not have done myself. They had been at our house for an hour when you arrived and we really needed the excitment of you coming to keep them all happy and entertained. Thank you for being so punctual and thank you for keeping a bunch of very lively 7/8 year olds entertained.
I will recommend you to my friends,"

Jacqueline, Sallins, Kildare

"Juliette, thank you so much for the fabulous party last week. You were an absolute pleasure to deal with, so prompt on replying to my mails and we all just loved how you turned up in your Toothfairy costume, especially as it was so cold outside ! You are a true professional and we look forward to seeing you for another of your super party ideas next year ! The girls LOVED you !! Thanks again you made the party at home experience an absolute pleasure!"

Julie M :Kilcoole

"Hi Juliette, thanks again for yesterday, Meadbh absolutely loved it and is wishing she could have the day all over again!"

Deirdre, Clontarf

"The kids had a ball this morning. Thanks a million!"

Mary, St.Patricks school :Cellbridge

"Thank you so much to Juliette for such a fantastic morning of entertainment for Peters 4th birthday party. They had such a brilliant party..the way you had 23 children under 5yrs captured for 90mins was amazing .. Peter is still talking about visiting you sometime soon in pirate land! I will be recommending you to anyone looking for party entertainment .. Well done ..Thanks again :)"

Dervla McArdle : Stepaside

"Thanks so much Louise for entertaining all the kids at a recent christening / birthday party. Louise kept both boys and girls of mixed ages entertained, the face painting was great we had pretty frozen girls, tigers, princesses, leopards and scars for the older boys. I would highly recommend Louise and genie mackers for any event or kids party. Thanks again x"

Elaine Breen : Glasnavin

"I wanted to let you know how delighted we were with the entertainment on Grace's christening day. The feedback I got from all the children was tremendous and even the adults were impressed. We were so thrilled and Geniemackers really added to our occasion. I believe you play an integral part of many of my 3 year old nephews games these days too! Thank you so much for all your hard work and energy on the day. I will be recommending you to my friends."

Joanne, Irial and Grace Hope / Slattery: Rathgar

"Birthday parties are easier for the grown-ups and way more fun for kids with Genie Makers! Really don't know how these magical genies do it, but they manage to control the room and maximise the fun in a way I never could! Can't recommend highly enough."

Avril Spencer : Templeogue

"Thank you so much for yesterday. Dee was brilliant. I didnt think the kids would let her go. The gore/special effects was great and when they saw her fancy paint work even boys were becoming princesses. She was definitely one of the highlights of the day. Thanks again for arranging at short notice. It could not have went any better. You are a lifesaver. I will definitely be recommending you guys in the future."

Ann Forbes : Rathmines

"Hi Princess Lola, Thank you so much for coming to Nicole's party today. Nicole & Ewan went to bed tonight laughing about 'Funny Bunnys' favourite song. Thank you for the smiles, giggles, laughs and all round entertainment today. Every child at the party LOVED your visit. You made Nicole feel so so special and helped us create some very special memories from her 5th birthday party. You have an amazing talent and to keep 20 kids totally engaged with for 90 mins was not mean feat! Thank you once again. Theresa."

Theresa Donnelly : Clane, Co. Kildare

"Thank you so much for the fabulous entertainment. Juliette put so much energy and enthusiasm into it, it was amazing to watch. We were so proud to see our little girl singing with the microphone as she is normally shy and wouldn't take such a brave step. You were great with her..not putting her under any pressure yet ready to encourage her and help her enjoy it. Thanks, it did wonders for her confidence. Excellent, professional entertainment. We will be recommending you!"

Niamh : Blackrock

"Just a quick e-mail to let you know how todays party went… Our Fairy Paula was truly amazing… The loveliest young lady my daughter and her friends could have been in the company of… She made sure everyone was involved including my 18mth old, always making sure she had plenty of bubbles around her… My daughter Grace has said it was the most magical and wonderful party she ever could have imagined and she wants Fairy Paula to return next year… I couldn't recommend you highly enough……Many Thanks"

Michelle O'Neill : Newbridge

"Fairy Louise came to my daughters birthday party on Sunday last! She was fantastic and made my daughters day, especially her Elsa the Snow Queen face paint and the games! Thanks Louise see you next year!"

Audrey O'Hara : Ashbourne

"I would highly recommend Genie Mackers for any party to keep the children entertained. Paula was amazing with the children and managed to keep them all spellbound during the hour..not bad considering the age range was from 14 months to 11 years!! Nothing the children asked for was too much trouble and she thought of everything. The children are still talking about her and magic land."

Nicola Eustace : Templeogue

WOW!! Thank you to Genie Anne who put on an amazing show today!!!
It was a huge success and perfectly timed.
The sun was shining and the children in our Kindergarten had a fabulous day. The face painting, balloons, magic and puppet show was outstanding. The children really enjoyed the parachute games and bubble disco.
Very professional and in-tune with the children in our setting. Would highly recommend and hope to recreate this again next year.
Most importantly a special day was created for the children graduating from our preschool.

Dunaire Montessori, Kingscourt, Co. Cavan.

Thank you Genie Mackers, for making my son's 4th Birthday absolutely SPECTACULAR!!
We had our party in our local estate Green and Sophia was an ultimate DELIGHT!!!
She had the kid's hanging out of her😂
Not leaving her side for a minute!

Every parent had commented on how friendly and gentle she was with them, and she never stopped smiling.
Absolute Pro she is❤️

Can't wait to have you back again,
A parents DREAM she was.

Thank you again Sophia, and I'll definitely see you soon x

Rebeka Ali- (Camden's Mummy) Drumcondra

Our daughter adores LOL dolls and really wanted to have an LOL Zoom party for her 6th birthday. I contacted Genie Mackers and dealt with Juliette and Dee who were so professional and a pleasure to deal with. As this was the second time our daughter was having a lockdown birthday we wanted to make it as special as possible for her. I think children are fascinated to see which doll is going to appear out of an LOL ball so I asked Dee if I could send her one to open during the show as a surprise. Dee did a great job and created a lot of excitement and anticipation opening the ball. Dee kindly had the doll delivered to us afterwards which created more excitement. The whole show had such an LOL atmosphere with Dee dressed as the LOL Unicorn Doll, the disco background and the LOL decorations looked brilliant.

We had approximately 25 kids connected through Zoom and Dee engaged so well with them, she has an incredible charisma. The show was full of activity with party games, dancing, magic and a little bit of puppetry. What we found great was Dee was so approachable before the party and she tailored it to what we were looking for. She was so much fun and the party was age appropriate. Everybody sent us lovely messages afterwards about how much their kids enjoyed it. Our daughter said it was her best birthday ever and was dreaming of her party next year with Dee of course! We would highly recommend Dee for an LOL party or any party, you can tell she takes pride in her work and thrives on bringing joy to others.

Christina G

We had Genie Mackers out today and have to say the kids loved her,
My daughter Harley loved the surprise and was thrilled with everything,
All the kids had great day, very entertaining full of energy, great fun and games for the kids of all ages,
We had from 2yrs-9yrs and they were all able to participate in the fun and games,
I would highly recommend Genie Mackers and will definitely book again as my daughter wants to know when the magic princess is coming back,
Thank you for today it was the perfect day for all of us.

David Kavanagh

Review left by Kerri Mc Coy

Really Excellent Childrens Entertainment. We had Sophia the Fairy at our daughters birthday party & she was incredible, really lovely, warm & friendly, very very good face painter too. All the kids & parents were thrilled with her & we will definitely hire them again next year. Highly recommend ❤️

Review left by Kerri Mc Coy

Review left by Luidmila Krylova

We had a blast on Sunday afternoon when Fairy Dee came to our house. By saying we I actually do mean Children and Grown ups! Since the minute she came in – she was a burst of positive energy which very quickly trickled to all the children and adults . She took charge, she new what she was doing and she made it Super fun for everyone. She kept children's attention for the time she was there. She got their names at once and off course she was sprinkling extra magic on the Birthday girl. Need less to say my 5 years old daughter wants Fairy Dee to come to our house everyday . Fairy Dee – you are amazing! I will do it again for any party and keep spreading your magic 🙂 Massive Thank you!

Review left by Luidmila Krylova

Selene was our entertainer for our daughters 3rd birthday and I cannot sing her praises enough. She had the children and adults enthralled. And her enthusiasm was contagious. And Dee in the office couldn't have been more helpful. It really was a great experience. Thank you so much.

Joanne Flower

I booked Genie Mackers for a corporate event yesterday, it was a large event with children of mixed ages. We had Elf's Amy, Louise and Mira for the party and they were absolutely brilliant. The kids had great fun, they loved the balloon art and face paint too. The face painting was incredible and so fast, so many parents commented on it. The girls were a pleasure to deal with and kept a large group of children captivated and happy for the duration, which in turn meant many happy parents. Everything from start to finish was excellent. Dee was a pleasure to deal with when organising and made the whole process easy. I wouldn't hesitate to recommend Genie Mackers to anyone. Thanks again ladies!

Elayne Harding

Greystones Family Resource had their 20 year celebration last Friday 4th November and we hired Genie Mackers for the afternoon to do face painting and balloons for the children. Dee was absolutely fantastic with the children, they loved her. Her art work was brilliant and all children went home very happy with their face painting and balloons. We would highly recommend Dee and we will definitely use Genie Mackers in the future. Also great value for money. Many thanks Dee from all at Greystones Family Resource Centre.

Jenny Kerrigan

Dee was wonderful. Our 3 Yr old was a little nervous at first but Dee won her over and did a great job of entertaining the kids.

Kate O'Mahony

I booked Genie Mackers Disco Diva for my daughters 6th birthday recently. What a great decision! Dee was amazing and filled the 1 and a half hours AND kept the kids attention without any difficulty!The kids loved the entire experience, I would have no hesitation recommending Genie Mackers for your party/event. Thanks Dee and team 👍

Jean Maher

I have use Genie mackers twice and think the service provided for the kiddies is fantastic 👏. We recently used them for my daughters christening and Tanya was just incredible with the children. We had some really shy kids who don't normally participate but they all had so much fun and everyone commented on how amazing the entertainment was. Thank you Tanya 😊

Kelly Mc Menamy

Absolutely 100% recommend Genie Makers – We booked Magical Makers for an hour and we had an ABSOLUTELY INCREDIBLE time at our party – Kate was brilliant – The kids were thrilled – They are still talking about it – We have captured so many amazing videos and photos that will be cherished for a lifetime – Kate made our little boy's day and we couldn't be any happier – Spreading joy through kids – Massive thank you again for making our party so special 🙂

T Mukherjee

We booked Genie Mackers for our daughters 6th birthday. Fairy Amy arrived and totally exceeded our expectations. Children were entertained from start to finish. She clearly loved working with the kids and kept them all engaged throughout. She was incredibly patient and overall a super nice person. Thank you Fairy Amy for making lovely memories for our daughter x

Triona Taaffe

We were so lucky to have Sophia for our party recently.. From the moment the children arrived she had them captivated from her face painting to magic tricks to games. She is full of energy and just pure joy to be around all the children loved her and I could not recommend her and genie mackers enough.. Thank you again Sophia

angie connolly

We had Paula yesterday for our little boys christening. She was absolutely amazing and so kind and made sure all the children got what they wanted xxx

Amanda Clarke

We couldn't have asked for a more magical experience for our 4 year old. Fairy Dee kept the group memorised for the entire experience. Made having a party for 12 kids in the house so much easier! Definitely creating some lovely memories for the kids in the future! Thanks!

Ciaran Malone

We had Selene from Genie mackers for our christening. Can't recommend her enough honestly brilliant with the kids so nice and patient with them the kids (1to12) took to her straight away she held their attention for whole time . Unreal face painting definitely be booking again. Thanks so much !

Siobhan OConnor

Hi We had Tanya for our 4 year old son on his birthday on 6th May. It was a superhero party. I could not recommend them enough. Tanya kept ten 4 year old entertained for the whole time she was there, she was so professional and even remembered all of the kids names. It was an unforgettable experience for them. I will definitely use them again. Thank you for a fantastic day.👌👍

Niamh Seberry

Thanks Dee and especially Mira for her amazing work on Saturday.

She was the highlight of the day for our daughter and all the kids loved her. She is also, without a doubt, the best Facepainter I have ever seen!

We will use you for future events and will recommend you to everyone we can too.

You were great to deal with throughout the process and we admire and appreciate the professionalism in advance and then the fun on the day!

John Melia

We had Fairy Dee for my daughters 3rd Birthday and she was absolutely fantastic. She had 10 children fully engaged for an hour and a half. The kids had the best time and I got messages from their parents after wards saying they talked about how good our party was all evening.
I wanted to have a party at home but was worried the kids wouldn't be entertained enough, Genie Mackers and Dee took all the work off us and left us with a birthday party to remember.

Ruth Hetherington

Genie Amy came to our daughter's 3rd birthday and was fantastic – best idea ever to arrange this for the party! Genie Amy was so great with the kids, lots of fun face painting and games that kept them enthralled. Amy was super organised and tidy, and lots of fun. Highly recommend. Thanks Amy!

Niamh Henry